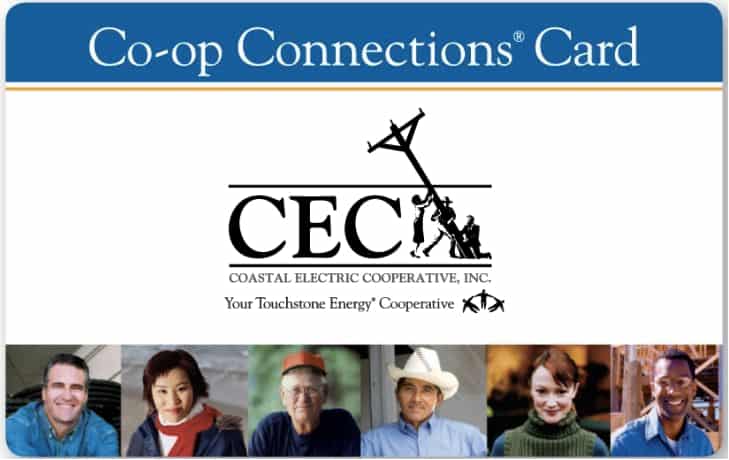 Experience savings on restaurants, golf, shopping, travel, family fun, automotive, movies, insurance… everything you can imagine is here. Co-op Connections has the best deals all in one place.
By being a Coastal Electric member, you are eligible to sign up for this free, money-saving program.
The One Card That Does It All
With Co-op Connections, you can save money on prescriptions, food, and much more. Sign up for this free program or log in at Connections.coop and see a list of participating businesses and health providers.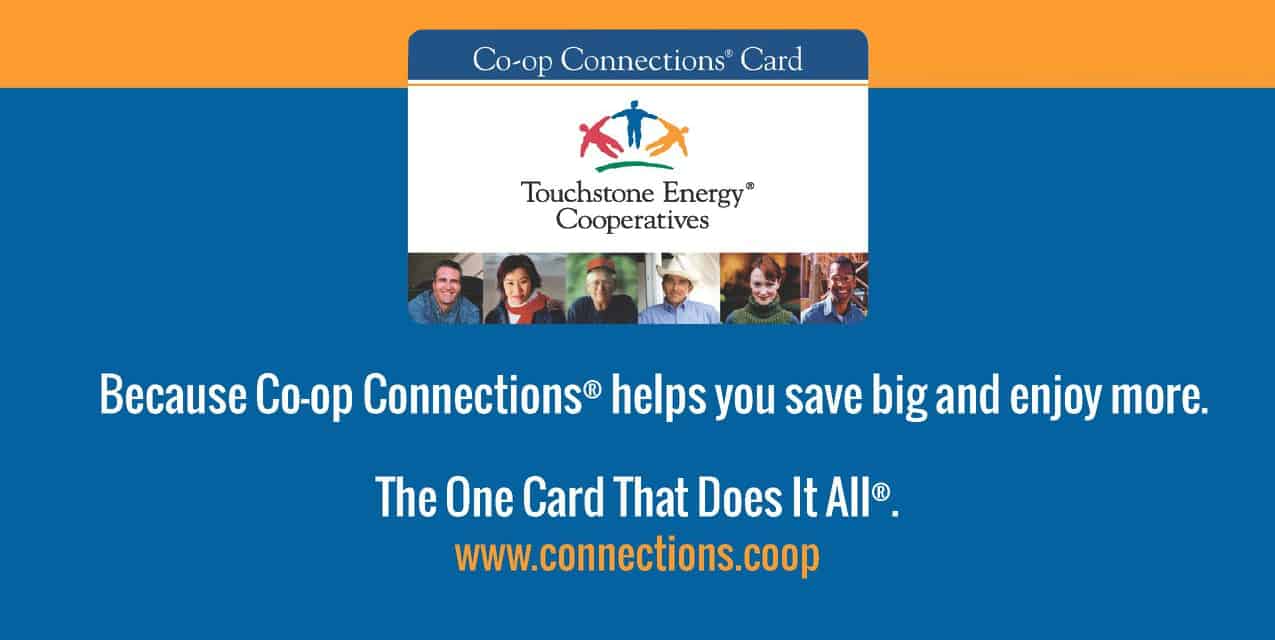 You can come by our office today to pick up your free Co-op Connections card with your name and account number on it. It can be used to receive the benefits of the Co-op Connections program and also make payments at any of our paysites.
And now you can download the app to your mobile device! With the app in your pocket, you will always have your Co-op Connections card with you.
Use coupons straight from the app on your phone
Local and national discounts
Cashback on online shopping
Save on restaurants, shopping, movies, travel, family fun, automotive and more.
The best deals on hotels, condos, flights, cruises, car rentals, and vacations.
Save 10% on concerts, sporting events, and theater tickets.
Incredible insurance discounts, plus $5,000 AD&D Life Insurance at no cost to you!
Keep cash in your pocket, your favorite films are over 25% off.
Save up to 50% off the price of admission to incredible experiences.
Save up to 85% on your pharmacy prescriptions.
Printable coupons for incredible savings on everyday purchases.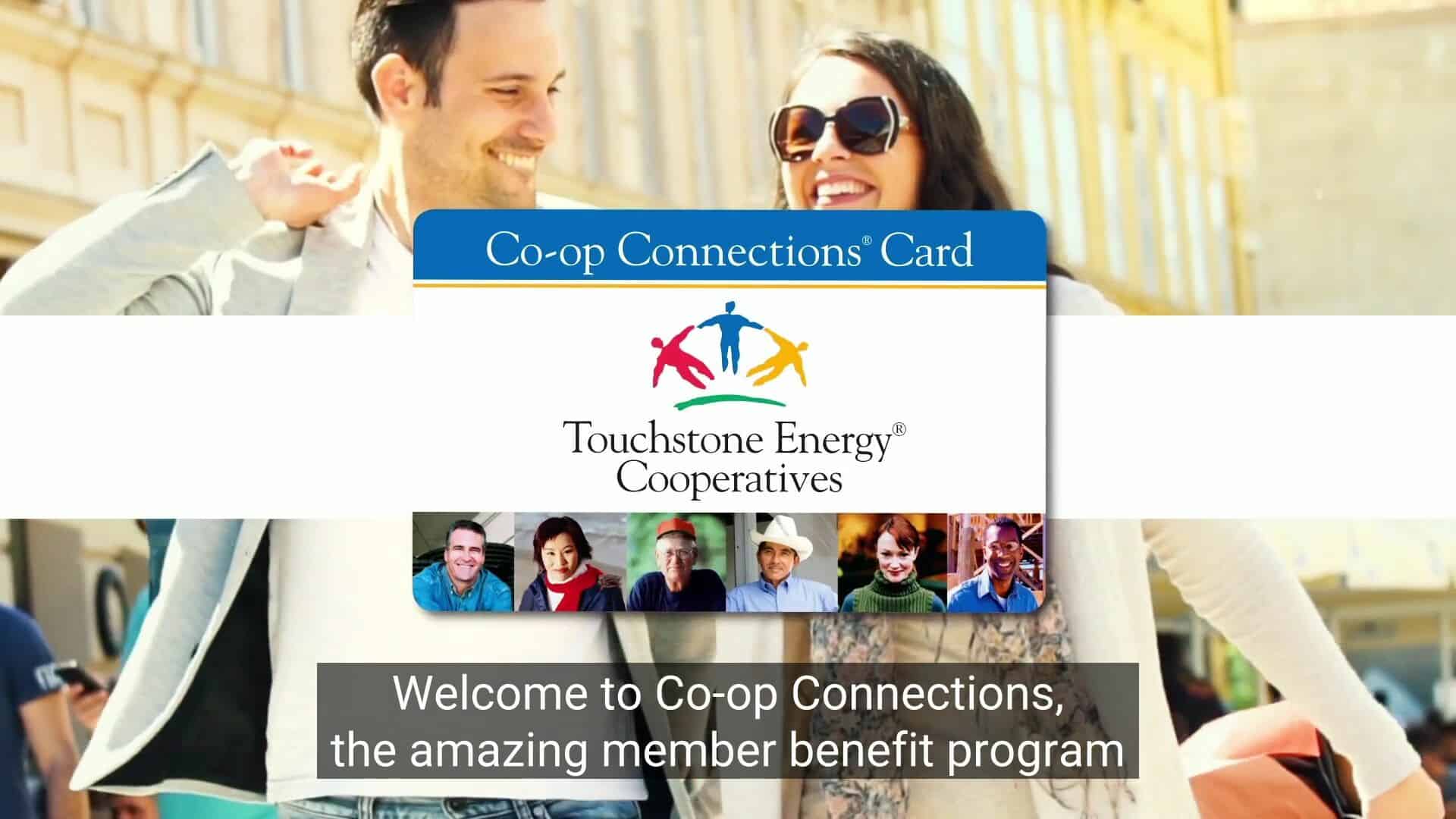 Welcome to Co-op Connections, the amazing member benefit program that will save you money on local shopping, online purchases, travel, events, plus help keep your family healthy, happy, and having fun.
Co-op Connections is different than other shopping sites. First, Co-op Connections gives savings right in your community with local deals. Then we add on travel deals, savings on events and sports tickets, savings on insurance, cashback shopping at thousands of online retailers, and so much more. But the best part is that your exclusive Co-op Connections membership is being given to you for free. That's right, for free.
With Co-op Connections, the deals you'll get are incredible. It's not unrealistic for an average family to save hundreds, if not thousands of dollars, every year on the same purchases you make every day, such as going out to dinner with your friends or family, checking out a concert, a play, or a football game, booking hotel rooms to your favorite vacation destination, or just doing your regular online shopping at home. Plus, Co-op Connections also offers a mobile app so you can take your savings with you wherever you go.
Co-op Connections is really easy to use. You just log in and click the tab where you want to save money.
The Local Deals tab gives you access to all the local stores right near your home. You can access them right on your phone. These coupons offer special savings, two-for-one deals, and a whole lot more.
The Healthy Savings tab offers huge discounts on prescriptions, dental care, vision, including eyewear, chiropractic visits, and more. These deals have saved our members more than $100 million to date. Take care of your whole family with the powerful Healthy Savings Suite.
The Hotel tab gives you access to deals on hotel bookings to all kinds of popular destinations so you can take the vacation of your dreams and save money at the same time.
The Cashback Shopping tab gives you access to thousands of online retailers that pay Co-op Connections shoppers for each purchase. Put money back in your pocket without changing the way you shop.
The Tickets tab provides you with an instant 10% discount on pro sports tickets, concert tickets, and tickets to theater groups and plays so you can have fun and save money, too.
The Insurance tab provides access to no hassle, no commitment insurance quotes, potentially saving you thousands of dollars. Whether it be life, auto, home, medical insurance, or even Medicare supplement insurance or annuities, Co-op Connections will get you a great deal to help you save on all your insurance needs.
The National Discounts tab gives you great deals on a host of different services you use every day. These include discounts on Uber and Lyft, a free credit report, and hundreds of grocery coupons. These specials are updated regularly, with new deals being offered all the time.
Co-op Connections really is the most comprehensive discount site around, and the best part is that you're getting your exclusive Co-op Connections membership for free. We'd like to invite you to log into Co-op Connections and see how your local electric cooperative is looking out for you.
Co-op Connections: Go beyond the card and find all the ways to save.