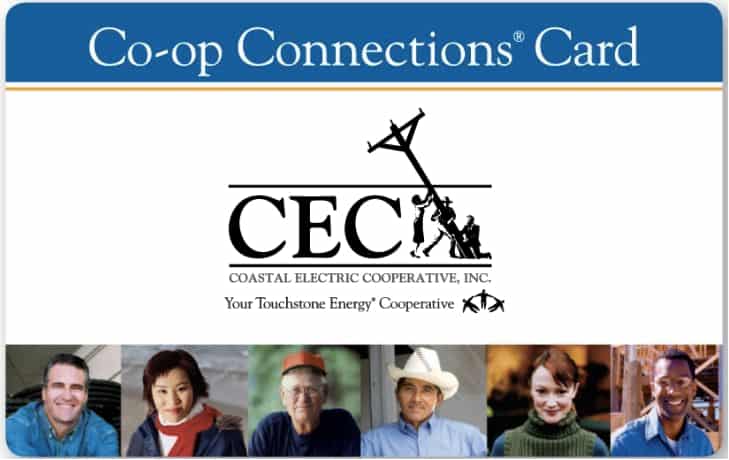 Experience savings on restaurants, golf, shopping, travel, family fun, automotive, movies, insurance… everything you can imagine is here. Co-op Connections has the best deals all in one place.
Coastal Electric Cooperative (CEC) was organized by a group of farmers in January 1940 as a non-profit organization to be owned by its members and governed by a Board of Trustees to be elected by its members.
During that same year, plans were coordinated for the procurement of right of way easements, membership guidelines were established, territory lines were designated, and maps of proposed power lines were created.
A loan request and proposal to serve 770 members was approved by the REA (Rural Electrification Administration).
In August of 1940, right-of-way clearing began to allow for the construction of power lines. Many families could not afford a required $5.00 membership fee, so they were allowed to assist with right-of-way clearing in lieu of paying the fee.
In 1950, the Cooperative installed its first two-way radio, and a "new" office building was completed in 1951.
Today, the area served by CEC is divided into 9 districts. One member from each district serves on the Board of Trustees for a 3 year term. These Trustees meet once a month and manage the business and affairs of the Cooperative.
Video: Power and the Land
The Rural Electrification Administration (REA) commissioned "Power and the Land" in 1940 to show farmers how electricity could improve their lives. The 38-minute movie chronicles two dawn-to-dusk days on the Parkinsons' dairy farm: one day before the lights came on and one day after.
"Power and the Land" premiered at the Old Trail Theater in St. Clairsville, Ohio, on August 31, 1940. After being picked up by RKO Radio Pictures a few months later, it was distributed to 5,000 movie theaters across the country.