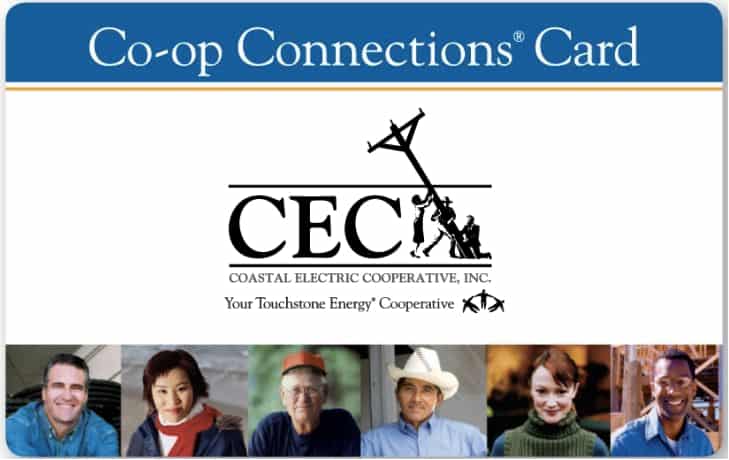 Experience savings on restaurants, golf, shopping, travel, family fun, automotive, movies, insurance… everything you can imagine is here. Co-op Connections has the best deals all in one place.
Each fall, Coastal Electric Cooperative invites members out for the annual membership meeting. As a member of Coastal Electric, you have the opportunity to attend one of the most important meetings of the year for your Co-op.
The annual meeting is your opportunity to become involved in the operation of your Cooperative by electing the directors that represent you and staying informed about the operation of the Co-op and the issues and challenges it faces.
The strength of our Cooperative comes from our members, especially the informed and concerned members who stay involved and who value our way of life in rural South Carolina.
In order to register and vote at the Annual Meeting you must:
Bring your Registration Sheet
Bring a Picture ID
Be the actual member whose name is on the registration slip
2022 Annual Meeting Recap
The Business Portion of the 2022 Annual Meeting of Members (the "Annual Meeting") of Coastal Electric Cooperative, Inc. (the "Cooperative") was held virtually at 3:00 PM, Eastern Time, on Friday, October 7, 2022, following early voting on Thursday, October 6, 2022, and Friday, October 7, 2022:
To elect 4 trustees from the candidates for election set forth previously.

To approve amendments to the Cooperative's Bylaws as recommended by the Board.

To transact such other business as may properly come before the Annual Meeting or any adjournment or postponement thereof.
Members of record at the close of business on October 5, 2022, were entitled to vote at the Annual Meeting. In accordance with the Cooperative's bylaws, voting by proxy was not allowed.
Watch the entire business meeting here:
This was Coastal Electric Cooperative's 82nd annual meeting and our third annual meeting conducted without in-person attendance.

The annual meeting was held utilizing two days of drive-through registration and voting, followed by a live-stream business meeting hosted on the cooperative website.

1,249 cooperative members registered and voted for Amendments to the Bylaws, and for trustees in 4 of the 9 cooperative districts.

Members voted and elected Mr. Bill Smoak to District 5 and Mr. James C. "Jim" Bryan to District 8, filling the vacant seats previously held by Mr. Jerry Crosby (District 5) and Mr. Harold Rhodes (District 8). Mr. James M. "Jamie" Bunton, Jr. (District #2) and Mr. James H. "Jamey" Copeland, III (District #4) were re-elected.

A two-thirds majority vote of the members was also received to approve the Amendments to the Bylaws as presented.
Chief Executive Officer, Mark Walling, spoke during the online virtual meeting. His remarks included the news that there is no planned rate increase for the ninth year in a row. He also gave a report on the financial strength and status of the cooperative as follows:
CEC has 12,069 active services.

Utility plant growth was $1,690,266 (2.5%) from March 31, 2021 to March 31, 2022, for a total of just over $67 million.

Capital credits totaling $201,000 were returned in December of 2021 to members under a plan that was approved by the membership at the 2018 annual meeting, which will return the same amount per year for a 6-year period.

In the past 10 years, over $3.5 million has been returned to current and past members in the form of capital credits.
Mr. Walling also addressed the challenges of keeping the cost of power stable and quality of service as a cooperative benchmark, outlining the following issues:
The cost of purchasing energy and transmitting it into our system totals more than half CEC's expenses.

The cost to generate power is increasing, primarily due to the increase in fuels such as natural gas and coal.

However, the costs of both generation and transmission have stabilized somewhat in recent years.

As a part of the settlement in the nuclear plant litigation, Santee Cooper – providers of about 70% of our power – has locked their rates through 2024, making 2025 prices uncertain.

Materials purchased to build and maintain the system have increased 30-50%, while some have skyrocketed as much as 350%.

Through attrition, the co-op's workforce has been reduced by 15%. N

ew technology and increasing efficiency have made it unnecessary to replace most retirees, resulting in considerable savings.
Mr. Walling also spoke about the reliability of the system and improvements, namely:
Continued investment in smart grid equipment.

A proactive approach to relocating and even burying some hard-to-access lines.

Regular plant maintenance

.
Lastly, Mr. Walling offered an update on the Member Investment Program that was reopened in 2021. Members were reminded of the opportunity to invest in the cooperative with a current rate of return on a regular investment of 2% ($5,000 minimum) and a return on jumbo investment of 2.25% ($100,000 minimum). For more information on the member investment program please call 843-538-5700.
Board of Trustees Election Results
District #2
James M "Jamie" Bunton, Jr. (incumbent, re-elected)
2601 Wolfe Creek Road
Walterboro, SC 29488
District #4
James H. "Jamey" Copeland III (incumbent, re-elected)
3484 Cane Branch Road
Walterboro, SC 29488
District #5
William M. "Bill" Smoak (elected to vacant seat)
1444 Sandy Landing Lane
Round O, SC 29474
District #8
James C. "Jim" Bryan (elected to vacant seat)
123 Bennett Island Drive
Green Pond, SC 29446
Amendments to Bylaws
Amendments to the Cooperative's Bylaws as recommended by the Board were approved by voting members.
Prize Winners
All members who registered and voted will receive a $15 bill credit.
The following prizes were awarded to members by random drawing:
Grand Prizes
Lawn Mower – Green Pond Methodist Church, Roland R. Thomas
Flat Screen Television – Milton S. Mears
$300 Bill Credit – Susan R. Solomon
$100 Account Credit
Silas C. Craven, Jr.
Jonathan C. Delonge
John W. Williams
Vence Gaskins
Ruby F. Conwell
Christena A. Ford
James Hiott
Rachana Bhonsle
Stephen K. Young
Virginia R. & Roger Britt
Fern Ulmer
Abigail S. Williams
Charles T. Jones
Linda Thompson
Paul L Beach & Ann R Beach