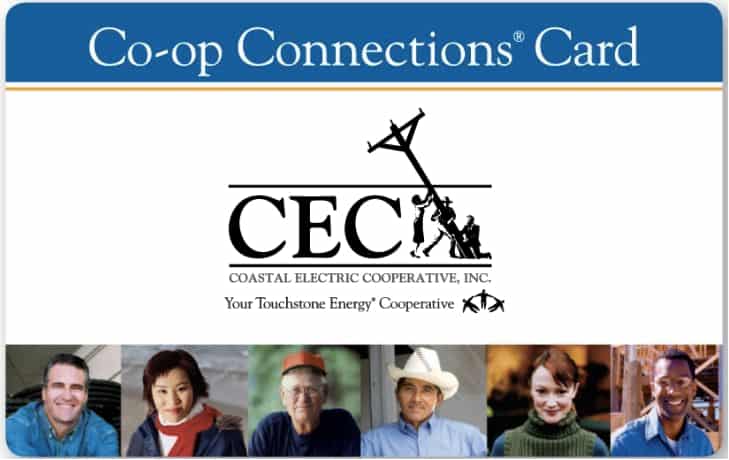 Experience savings on restaurants, golf, shopping, travel, family fun, automotive, movies, insurance… everything you can imagine is here. Co-op Connections has the best deals all in one place.
If you plan to use a portable generator, here are some important safety precautions:
Read all instructions carefully and follow the manufacturer's recommendations.

Never run your generator indoors or in your garage. Generators should only be run in a well ventilated area. Gasoline-powered generators produce carbon monoxide and the fumes can be deadly if there is not adequate ventilation.

Plug appliances directly into the generator using heavy-duty, properly grounded extension cords.
Make sure that extension cords are not frayed or worn.

Limit the electrical load placed on the generator to no more than the recommended wattage.

Do not connect your power generator directly to your home's main fuse box or circuit panel.
Use the generator only when necessary.

Turn the generator off at night while you sleep and when you are away from home.

If you have any questions about how to properly use a portable electric generator, contact the manufacturer or a licensed electrician for assistance.
Proper Generator Connection Vital
Connecting a generator to the main electrical supply for your house requires the services of a licensed electrician. Notify Coastal Electric before connecting the generator to your household circuit.
Ultimately, if you are a licensed electrician, the only acceptable way of connecting a generator to your home's electric system is through a double-pole, double-throw transfer switch.
This switch disconnects your electric system from Coastal Electric's power lines and will:
Eliminate the likelihood that your generator will send electricity onto the cooperative's line, which is extremely dangerous and potentially deadly for our linemen who are working on a line that is supposed to be de-energized.
Eliminate the likelihood that restoring power from the Coastal Electric distribution system will destroy an improperly connected generator when electric service is restored.
Standby Generators
Weather in the lowcountry can be beautiful but it can also wreak havoc on our electric system. Adverse weather conditions and other forces of nature can cause power outages that are beyond the Cooperative's control. To assist members in coping with these situations, Coastal Electric offers to qualifying members whole-house backup generators through our Energy Advance loan program.
Qualified energy advisers will work with you to obtain the best, cost-effective generator for your home and to make sure your generator is correctly sized and installed. We can also finance the project through the Energy Advance program for members who qualify for that program.
If you are interested in obtaining a backup generator for your home, complete the form on our Generator Loans page or call our energy advisors at 843-538-5700 to start the process.