The 2022 Atlantic hurricane season, which runs through November 30, is officially here, and forecasters with the National Oceanic and Atmospheric Administration (NOAA) predict a 65% chance of an above-normal season, a 25% chance of a near-normal season and a 10% chance of a below-normal season.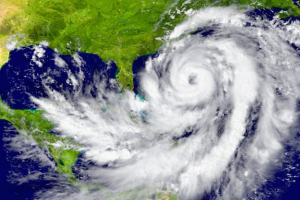 For the 2022 hurricane season, NOAA is forecasting a likely range of 14 to 21 named storms (winds of 39 mph or higher), of which 6 to 10 could become hurricanes (winds of 74 mph or higher), including 3 to 6 major hurricanes (category 3, 4 or 5; with winds of 111 mph or higher).
As the guardians of the state's largest utility network—more than 75,000 miles of electric distribution lines serving 1.5 million people across all 46 counties—South Carolina's not-for-profit electric cooperatives have emergency plans in place to deal with violent weather should a hurricane threaten the Palmetto State.
Along with the South Carolina Emergency Management Division (SCEMD), co-ops urge all state residents to have their own plans in place to protect friends, family, pets and property. Learn what to do before, after and during violent storms with these resources.
SC Emergency Manager mobile app
Available for free in the Apple App Store and on Google Play, this handy app links users to every SCEMD resource they need before, during and after a storm, including evacuation and shelter maps and planning checklists. It even has a useful "tools" function that turns your smartphone into an emergency flashlight, signaling device and a GPS locator.
SCEMD.org
No smartphone? No problem. All of the app's planning resources, maps and links to the latest emergency information are available on SCEMD.org. In the case of a hurricane (or any natural disaster), SCEMD will update the site to provide the best real-time information users need.
South Carolina Hurricane Guide
From both the website and the app, you can download SCEMD's latest South Carolina Hurricane Guide, a comprehensive booklet filled with tips and resources. To access the guide online, visit scemd.org/stay-informed/publications/hurricane-guide.
South Carolina Living Storm Center
South Carolina Living's storm center pages are filled with information to help co-op members prepare for and survive natural disasters. Readers will find useful how-to guides on building a storm kit, evacuating with pets, staying safe when power lines are down, and how to report power outages. There's even a live, statewide outage map to track the storm damage and the status of repairs in co-op-served territories. See all the resources at SCLiving.coop/storm-center.