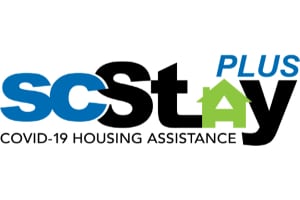 Coastal Electric Cooperative is committed to looking out for our members. We are pleased to offer the SC Housing Authority's SC Stay Plus Program to members in need. This is a rent and utility assistance program for South Carolina renters impacted by COVID-19. Applications are now accepted. Eligible applicants may receive up to 12 months of assistance with back rent and/or utility payments dating back to March 13, 2020.
Renters and landlords should visit the SC Stay Plus website or call the call center at (803) 336-3420 for more information. We are anticipating high demand for these funds due to the urgent needs of residents. Completing an application as soon as possible may speed up the processing time.
To qualify, renters must have experienced one of the following life events since March 13, 2020:
Qualified for unemployment or have experienced a reduction in household income, incurred significant costs, or have experienced a financial hardship due to COVID-19;
Demonstrates risk of experiencing homelessness or housing instability, or;
Has a household income at or below 80% of Area Median Income
Additionally, applicants will need to provide the following documentation to complete their application:
Pictures or scans of a photo identification
A copy of some sort of rental agreement or proof of rent payments
A 2020 Federal Tax Return
Proof of financial hardship (e.g., unemployment benefits, unemployment letter, business closure, etc.)
Proof of risk of housing loss or experiencing homelessness (e.g., eviction notice or past-due utilities)
If an applicant does not have any of the documents available, they should not hesitate to apply to the program. The SC Stay Plus call center is ready to assist where possible.
Please note: residents in 39 counties are eligible for the SC Stay Plus program. The following seven counties are providing their own rental assistance programs: Anderson, Berkeley, Charleston, Greenville, Horry, Richland, and Spartanburg – see more information on these resources here.
Keep in mind, that if you have previously applied for assistance through SC Stay in February 2021, they cannot request support from both programs for the same period of back rent. However, they can request assistance for different months.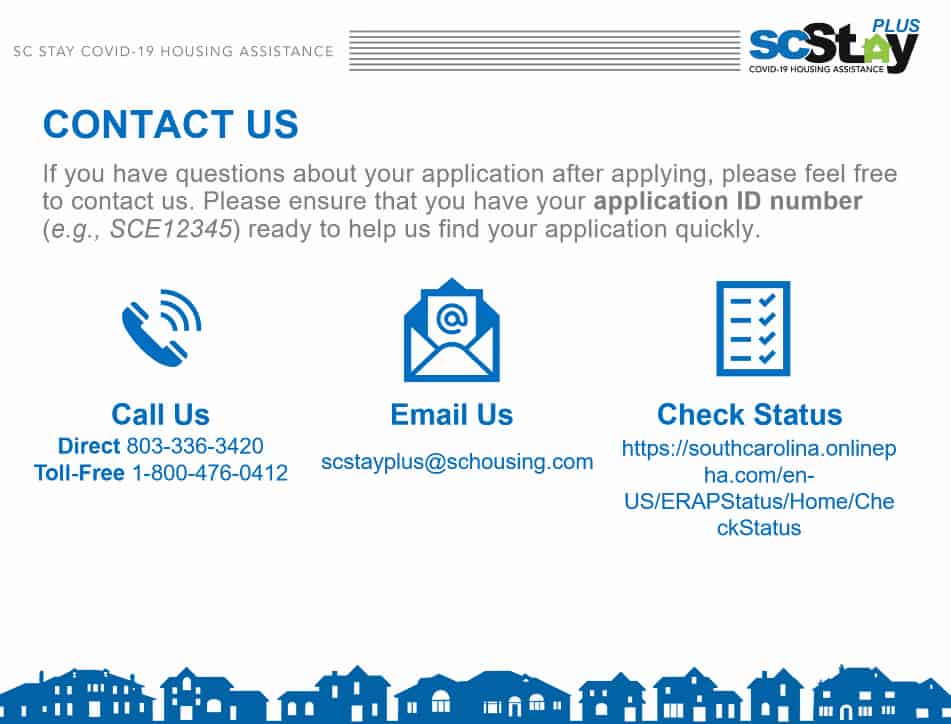 If you have questions about the SC Stay Plus program or know someone who needs assistance with the application, please call the call center directly at (803) 336-3640 or toll-free (800) 476-0412.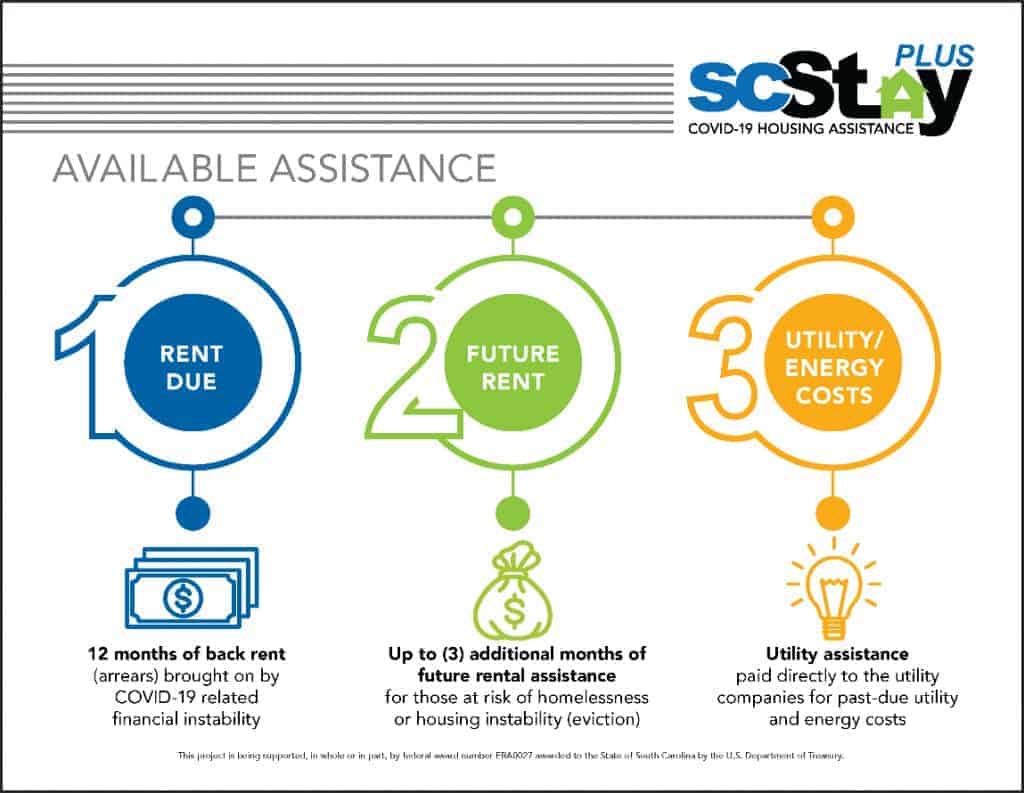 Program FAQ
How much financial support can I get?
The SC Stay Plus program is designed to provide up to 12 months of unpaid back rent AND utilities for renters financially impacted by COVID-19. Some applicants may also qualify for up to 3 months of future rent assistance to maintain housing stability.
How long will it take for me to receive program funds?
After your application has been reviewed and approved, you can expect payment within 30 days. The review process can take up to 30 days. We encourage you to ensure that your application is complete at the submission to get an approval decision as quickly as possible.
Does my landlord need to be involved?
Landlord participation is strongly encouraged. Please complete/submit your application and email us for additional assistance. Landlord participation will help you receive funding faster.
What options are available to me if my landlord refuses to participate?
Reasonable efforts will be made to encourage participation; however, if your landlord continues to refuse, please contact the SC Stay Plus call center for further assistance.
Can landlords refer tenant(s) who need help?
Yes. Landlords can complete the Landlord Referral Form on the applicant portal. However, the tenant will need to submit an application in order to be considered for funding.
Who do the SC Stay Plus funds go to?
The program pays back rent directly to your landlord.
Where can I see if my income qualifies for the SC Stay Plus program?
The program is designed for people whose household income is at or below 80% of Area Median Income (AMI). Priority will be given to households with an income at or below 50% AMI. Click here to see AMI by county.
Application Support
Have trouble uploading documents to the application? Send them in via email in individual batches at scstayplus@schousing.com. Be sure to reference your application ID number.
Are foreign passports an acceptable form of identification?
Yes, foreign passports are acceptable.
What if my ID has expired?
Identification forms that have expired after March 13, 2020, are still acceptable.
I recently got denied, and I'm not sure why. What are my options?
You can appeal your application decision by contacting the SC Stay Plus representative reviewing your case or by emailing us directly at scstayplus@schousing.com.
I did not have all the required documents at the time of completing my application. Can I come back and upload them?
Yes. Applicants are given an opportunity to upload their documents after they complete the application form. However, adding these documents as quickly as possible is critical to expediting the review process.
All SC Stay Plus (COVID-19 Emergency Rental Assistance) Frequently Asked Question (FAQs) For Renters